FUNDING FOR SCHOOL BUS FIELD TRIPS
BC Field Trips.ca - Transportation Solutions
The Habitat Conservation Trust Foundation
---
Fisheries and Oceans Canada
Capilano hatchery tours
Capilano hatchery has resumed tours for Salmonids in the Classroom participants.
To book call (604) 666-1790
When booking your tour please keep in mind: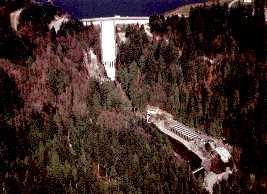 Capilano Hatchery
Tours are restricted to ONE CLASS.
Mondays are preferred tour days as more staff are available.
You will be 'behind the scenes' ; please prepare students – they may see fish being killed during spawning and egg-takes.
The tour takes place outdoors; please have students dress accordingly.
Tours are free of charge.
Directions:
Capilano Road north (Capilano Road exit from Highway #1 or North Vancouver exit off Lions Gate Bridge, then left up Capilano Road) .5 km past the Suspension Bridge. Turn Left on to Capilano Park Road (Look for sign "Capilano River Regional Park") and proceed down 1 km to end of the road.
Tours:
Community groups and special educational programs that participate in fisheries renewal and educational activities, such as classroom incubation and stream enhancement, may obtain guided tours. For more detailed information contact the hatchery.
All public tours are self-guided and a new downloadable tour brochure is available from this website. The tour takes approximately one-half hour. Please obey all signs!
Contact: capilano@pac.dfo-mpo.gc.ca
To encourage continuation of this special opportunity, please consider communicating your appreciation to the hatchery staff, as well as to:
Minister of Fisheries and Oceans,
House of Commons, Parliament Bldgs.,
Wellington Street, Ottawa, Ont. K1A 0A6
Email: min@dfo-mpo.gc.ca
Stanley Park Ecology Centre
Salmon Release (Grades 2-7) Investigate one of only four remaining salmon-bearing streams in Vancouver and discover how salmon are deeply connected to their environment.
Enhance learning as your students release salmon fry into the fresh waters of Stanley Park. Do a stream survey and meet fry prey up close and personal in an exploratory pond dip.
Our Salmon Release Program complements the Department of Fisheries and Oceansí Salmonids in the Classroom Program. If you are studying salmon, also check out our Salmon Forest classroom program for a great way to kick off your studies.
For grades 2-3, Salmon Release is $169.00 for a one and a half hour program for up to 25 students.
For grades 4-7, Salmon Release is $219.00 for a two hour program for up to 30 students.
Salmon Release is available in April each year. Bookings must be coordinated with the Department of Fisheries and Oceans. Please contact us for more details.
Download the Salmon Release Program Teacher Information Package for information on curriculum connections, meeting location, preparing for the program and more.
Trinity Western University Langley, BC
SALMON IN THE VALLEY Field Trip
Visit their web page
Salmon in the Valley is a full-day, environment-based curriculum designed to complement and build on concepts students are already learning in the classroom. Developed with specific life science learning outcomes and objectives, the program offers students a chance to explore and appreciate their natural surroundings. They'll develop a better understanding of the living organisms, simple food chains and natural processes found in a local forest setting.
Studying aqautic insects during field trip.
Your students will spend their day in TWU's Ecosystem Study Area (ESA)—60-acres dedicated to the study, preservation, and proper management of the environment. This valuable area of diverse and sensitive habitat contains part of the Salmon River, a large pond, several tributaries, and a second-growth forest. The area is maintained and studied by TWU students, faculty, and staff, and will be the main location for the hands-on learning your students will be doing.
Under the dynamic instruction of trained guides, your class can look forward to a guided forest walk, water quality testing, aquatic invertebrate sampling, plant and animal identification and salmon habitat exploration through fun learning-based games. Teachers will be provided with pre-trip and post-trip classroom materials, including background information for lesson planning, suggested pre- and post-trip learning activities, a full itinerary, directions and a fieldtrip planning guide.
NEW! This year we hope to be piloting a program for Grade 5 students, in addition to running our Grade 4 program.
Contact: Christopher Hall
Metro Vancouver: Salmon Rainforest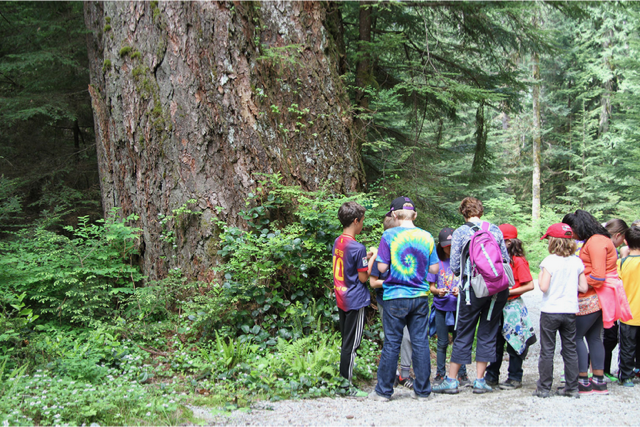 Salmon make a forest healthy Ė itís true! Join us to find out more about the extraordinary life cycle of salmon, and learn more about how they provide food for us, the forest and more than 100 other animal species. Available at Burnaby Lake, Capilano River, and Tynehead and Kanaka Creek Regional Parks for Grades 2 to 6. Programs are 2 hours long and the cost is $70 for 1 - 15 students or $140 for 16 - 30 students.
For more information visit their web site.
Gently Down the Seymour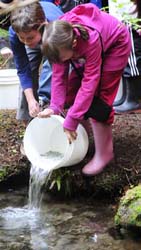 The Gently Down the Seymour (GDS) education program is run in the spring at the Seymour River Fish Hatchery. The Seymour Salmonid Society raises money each year to allow this unique education experience to be offered for free to elementary aged students who participate in Salmonids in the Classroom around the Vancouver area.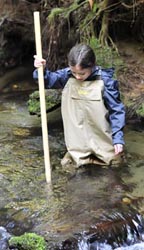 Gently Down the Seymour (GDS) is a field trip program designed to enhance the learning and understanding of students participating in the Salmonids in the Classroom program (Fisheries and Oceans Canada). This program is developed to give students unique, hands-on learning experience and the opportunity to observe salmon in their natural wilderness habitat as well as in a working salmon hatchery.
Gently Down the Seymour Education Program, Demonstration of salmon spawning
Students learn about salmonids and their life in the Seymour Watershed through four different component concepts:
Forest Ecology
Stream Habitat Survey
Aquatic Invertebrates
Hatchery operations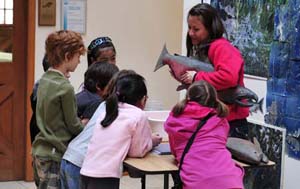 Observations, measurements, investigations, and study techniques are employed individually as well as in a group giving students a chance to have direct personal experience with the living and non-living components of the land.
Gently Down the Seymour Education Program, Measuring the water depth of a stream in waders
Typically, students will get the opportunity to:
observe an old-growth coast forest setting
identify different things found in the surroundings
measure the physical features of a salmon stream
collect and identify aquatic invertebrates; the food for salmon fry
tour through and witness a working salmon hatchery